It was another day of Family fun on two wheels as the Team Hollywood Cycles crew descended on the small ski area in Southern Minnesota that is Mount Kato.
Once a favorite for me as a youth for weekend skiing now one of my favorite stops on the Minnesota Series.
The THC# contingent took over the back half of the lot as I gave the Rocket Boy some last bit of
instructions for his first big race of the year.
The kid drilled it off the line and made it to the Hill in 4th place,, but not being big on shifting he watched the more experienced kids ride around him... As he rode out of sight for his four mile ride I went to the finish line to wait for him. About 30 minutes later he crossed the line with a big bunny hop and face full of smiles.
After some warm up time it was my turn to go stand on the start line. I found my self up on the line with a fourth place call up and a good size field behind me.
As the whistle sounded it was a sprint to the single track and the first climb of the day.
Paul H punched it and led up the hill and I sat in around the frog pond and back to the front side of the course. Sitting there on Paul's wheel I felt good and went for a pass and made a move to get off the front. Now this is a place that I have not been in many years and it was a weird felling to be OTF.. With the whole of the group chasing I found a comfortable pace and just kept pushing it.
I knew with Jason Sager and Jesse Reints behind I would not be out here to long.
My goal was to push it and open up some gaps but even more I wanted to hit some of the technical sections with a clear line in front of my eyes. I got through mad squirrel clean and as I pedaled away through the woods I could hear some carnage.
I kept my self out front unit the last decent on the lap when Jason S. came around.. I stayed with him as long as i could and then saw Jesse come around.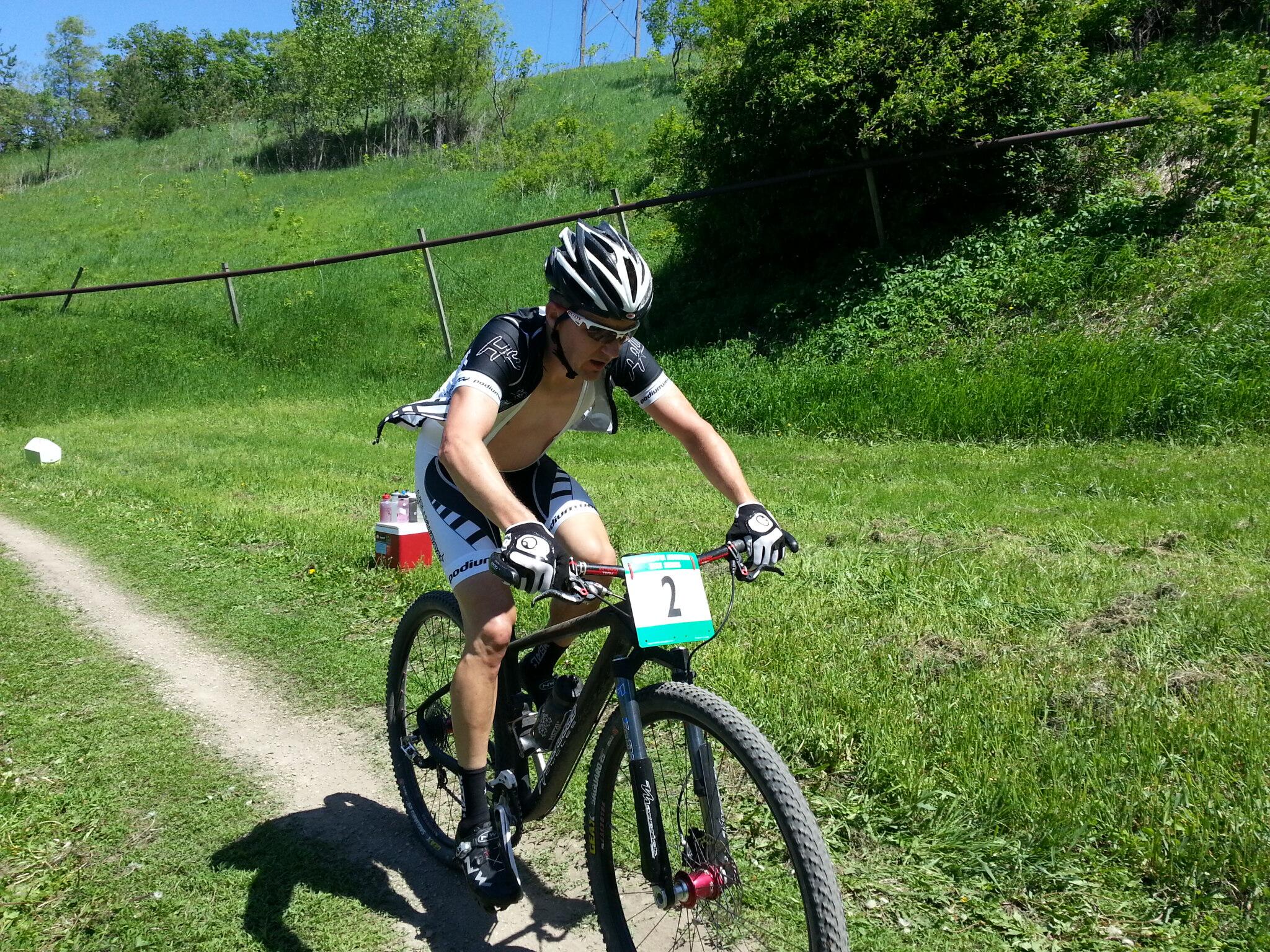 For the next three laps I rode in third with chasers or two to three behind me but never able to come around. As the race progressed the lap traffic got thick so passing and being smooth became tough,, but the trails were in perfect condition so you could just let the tires grip and fly through the woods.
Lap five on the start climb I started to chip away at my closest chaser Young Mcburney,,, I was able to ride away and started to think to my self that this may happen,,, I put my head down and started to tap it out. To my surprise Owen came around like being shot out of a cannon and it was all I could do to sit on his wheel,, but it was the first wheel that I got to sit on in a long time.
I lost contact with some lap traffic issues on some more of the technical stuff and was happy to cross the line again in Fourth.. Again missing the third step by 20 seconds.. So close almost there.. but I am happy with the way that i am riding and the way the season is coming along.
Sophia managed another fourth place missing the third spot this time by 35 seconds and had four minutes to the closest girl behind her.
The Team did awesome and now we have a few weeks off and more time to do some work and get ready for Red Wing which will be the State Champion Race...
Thanks to all who help me along and let me live the old man on two wheeled Dream..