A whirl wind of a week or first few weeks of August.
Life in the salt mines has been a real grind and if would not be for bikes and then
more bikes I would be in the clock tower taking pot shots.
The summer culminated with taking the Kid to School.
A lot of build up to this event and overwhelming emotions of will this kid be
ok??
Got to school and met up with Coach,, loaded her MTB in to the team trailer and proceeded to move things into her new home.
She got her self a Suite which means she shares a small common area and has three roommates.
Got to have some lunch with the team and meet and talk with teammates.
We said good bye and hit the road.
I had a bit of a bike thing to get ready for...
The BIKE Thing.. was the Single Speed USA event
being put on by the 29&Single Crew.
300 single speeders singed up for a 35+ mile slog through the hills and single track of Winona Mn.
After many High Fives we all laid our bikes down i
n a field so 1/2 mile away.
Instructions were given and a good was yelled,, we were off and running to our bikes.
At the field all the bikes were moved and it took me a minute to find mine,,,then I did and now off to the races.
Climbing the road was interesting,, not knowing my space in the game I just stayed on the gas and passed and passed as many as I could until I settled into a group of strong guys.
Flying now through the Cherry bomb sections we were hopefully making some gaps, with long sections of hike-a-bike things were string out long.
The six of worked together as long as we could,,but with different gearing we would yo-yo and then eventually broke a part.
I was able to get to the top of Sugar Loaf in front of the crew I was with,,
Stuck the insane decent and worked back towards Holzinger....
Last bit of work for the day and finally on some trail that I knew..
Pacing my self this late in the race,, working out every foot of the 4000 feet of climbing.
By the time I hit the run into the finish I was all smiles.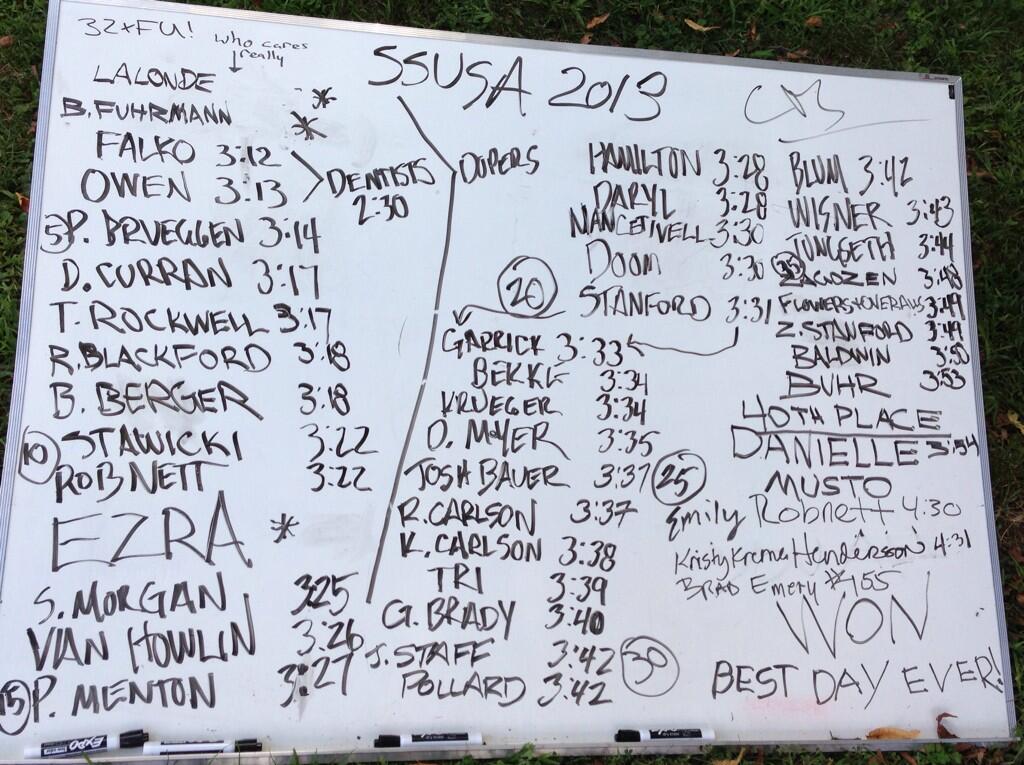 First it was 6 then 5 and with some of the folks in front having taken wrong turns
I ended up 4th..
I'll take that.
Solid day,
Next fifty miles at Levis.
After racing DNF happened..